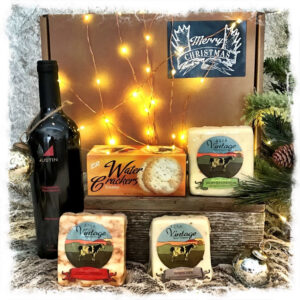 Welcome to the Wine & Cheese Box from Bravo Farms! This box is the perfect way to enjoy a nice glass of wine and some delicious cheese.

Inside, you'll find three different kinds of cheese from Bravo Farms, as well as crackers and a bottle of wine. The crackers are the perfect accompaniment to the cheeses, and the wine is a perfect way to complete the experience.

The Wine & Cheese Box is the perfect gift for any occasion, or just for yourself. Enjoy a night in with this box and you'll be sure to have a wonderful time.